After I was treated to a wonderful full English Breakfast, prepared by Jenny, my Pilipino host, I headed out back onto The Saints Way.
A gentle climb out of Lanviet, The Saints Way continued to head south towards Fowey.
A couple of miles outside of Lanivet I caught up to Jake, a 28-year-old local who was out for his daily walk. Today he had decided he wanted to scale Helman Tor, the third highest peak in Cornwall, according to Jake. He asked me if I wanted to join him and of course I agreed.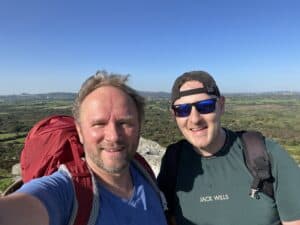 It took us around an hour to reach the top. It is not a great height, but you certainly got a great view from the top, a set of granite stones were waiting for us. The way these stones are set almost makes you think that someone put them there.
Jake was delightful. A reformed drug addict, he now fills his days with keeping himself fit, both his mind and body. He loves to hike; he loves nature and loves looking after himself so he can in turn look after those around him. He had a lot to say, and I was more than happy to listen. We parted ways at the top of Helman Tor, but something tells me this won't be the last time I am in his presence.
The walk to Fowey was undulating, slow ups and long painstaking downs. It was a tease of a walk, one of those that makes you think the finish is just around the corner. You get around the corner and no, the finish is not there, it is just around the next corner. Is it?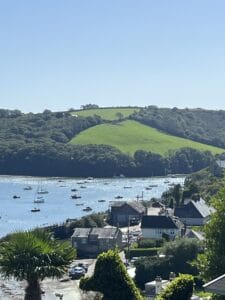 If you think Padstow is a delightful seaside harbour, then Fowey is going to tell you otherwise. Wow, what a quaint little town, nestled on the banks of the estuary of the river Fowey. Oh, while I am talking about Fowey, how do you pronounce it? Listen to Episode Four of the podcast and find out. Do I get it right? Of course, I don't.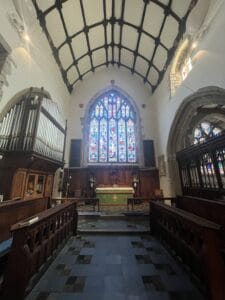 I made it to Saint Fimbarrus Church, the official end of The Saints Way, in good time. It was a peaceful welcome, to be able to go and sit in the Church where the pilgrims of old would have done. The past two days I have reflected a lot on why they would have taken that journey and why I am doing this right now.
I took the bus back to my car in Bodmin and drove home.
I felt tired, overwhelmed, but happy. Happy to be back out on the road again. I am not going to leave it another two years before I do my next walk.