The first story pilgrimage is underway! Here are some thoughts I've been jotting down from the road so far. These are just some unpolished notes from my daily reflections, I hope they give you a sense of the walk so far.
The journey to Melrose
The train journey to Berwick-upon-Tweed was eventful. We made good time to just outside York when we ground to a halt to find we were delayed due to an earlier train hitting a cow. We eventually made it to Berwick over 90 minutes late. I went to get on the bus, my ticket stating I am ticketed to Melrose, only to be told by the bus driver that this is not so and I had to buy another ticket. No big deal.
Melrose is a beautiful town. I walked down to the Abbey; wasn't able to get in but it looked amazing. Had a lovely dinner at my hotel, Burt's. Early night as a long day tomorrow.
Day One
Started with a full Scottish breakfast, knew I would need to fill up for the day.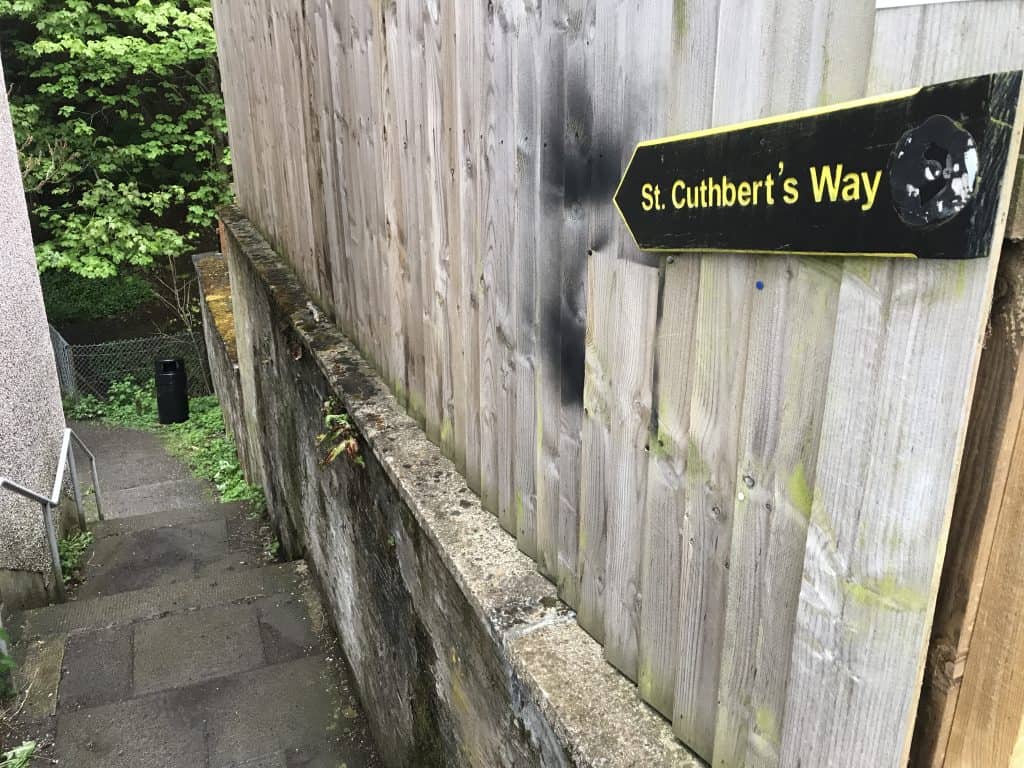 You would think that the start of St Cuthbert's Way would have a clear marker, but you have to do your homework to know which road to take. There was a little sign, taking you down the side of someone's house, through their back garden onto the trail. Steps through a forest take you out of Melrose up into the Eildon Hills. Three wonderful, almost volcanic in look, hills. Quite steep but immediately stunning views back down into Melrose.
The signage was not great all day today. Had several times when I was unsure if I was on St Cuthbert's Way, had to keep looking at my map that I have from the official guide, but it was tough.
Took a detour to Dryburgh Abbey, on the other side of the Tweed River. Gorgeous, so tranquil, built in 1150 and now in ruins but still pretty impressive. I had the whole site to myself. Had my lunch there and enjoyed being able to soak all the history in.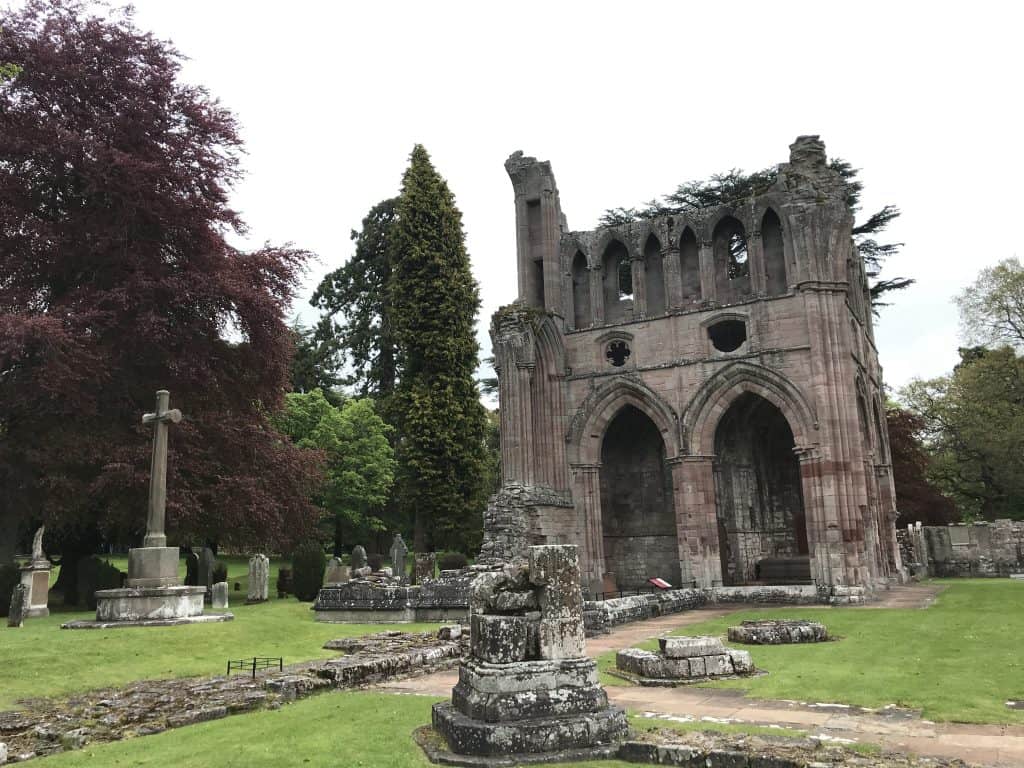 Rain showers all day, pretty wet, on and off with the waterproofs.
I was unsure where to leave St Cuthbert's Way to get to my B&B in Jedburgh. Jedburgh is not on the route, it is about 2.5 miles south. I could see that Harestanes looked like a good place but for some reason I felt I should keep going and get to the B689 road. Get to that point and then probably take a bus or taxi to my B&B. I was hoping to be at my B&B by 5pm, but it was 6pm by the time I got to the B689. To get there I had to walk up these steep stairs and then climb over the side crash barrier to get on the road.
As I was climbing over the barrier a white van started to beep it's horn at me. I thought to myself, that was rude as I was not blocking the road and they could easily get around me. As the van came close I saw that it was my brother, Gareth. He lives about 4 hours from here but it a self-employed courier and was on a job!
What are the chances? That we would meet there, the exact moment I step onto the road. A minute later we would have not seen each other. I jumped in his van and went with him to his drop off in Berwick, and then he drove me to my B&B. 
A St Cuthbert Miracle!
Day Two
A friend from senior school, Julian, drove up to see me for breakfast at my B&B. I haven't seen Julian for over 11 years, it was lovely to catch up, miss him.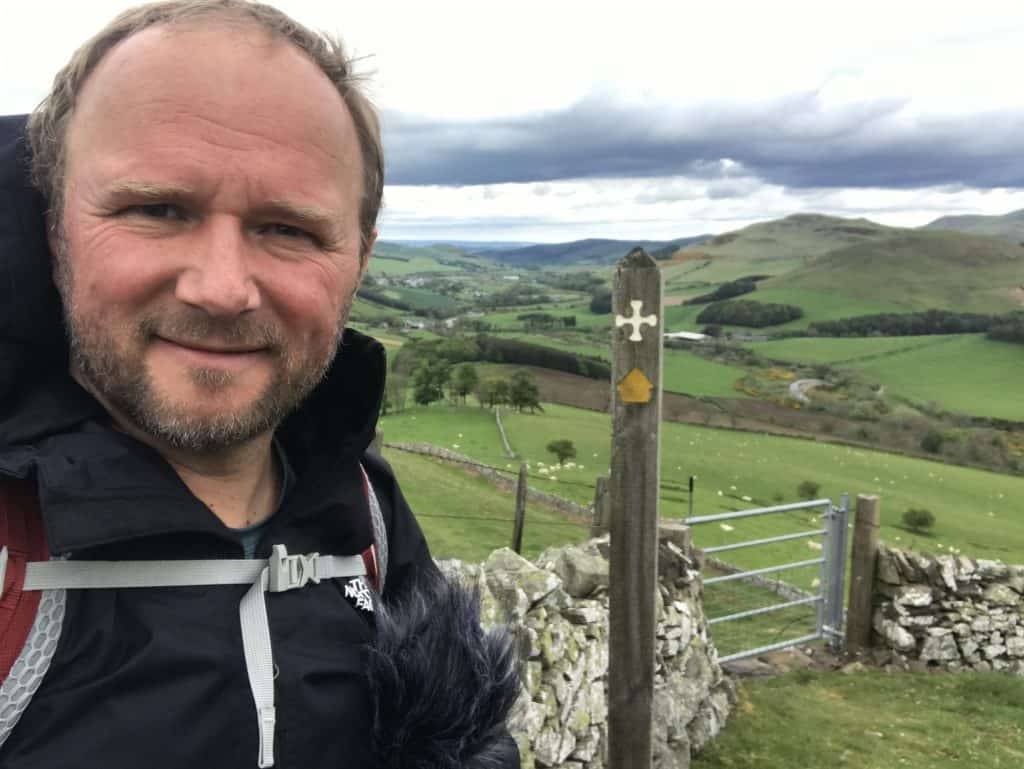 Back onto the Way and weather the same as yesterday, rain showers all day. The way is very wet, muddy. Better signage today.
After about 90 minutes I hear someone coming up behind me. Ann from Peckham, a retired headteacher. She was heading to Morebattle today and we walked together for about 150 minutes. We had a lovely chat, she told me she had no stories to tell but that she was a better headteacher than teacher, now a Governor of a primary school, walks often, and volunteers with the Red Cross helping refugees. She had a lot of stories to tell, I told her! 
I left her in Morebattle and carried on to Yetholm. Very steep going out of Morebattle to the highest point on St Cuthbert's Way, 1200 ft, Wideopen Hill. The view from up there was stunning, could see back towards Melrose and the Eildon Hills, and all around. So lucky to be able to soak all that in. Not only is that the highest point but it is also the halfway point.
Steep going back down, which is even tougher on the feet.
Got to my hotel, The Plough, at around 4:50pm. All is well, my feet were so wet and I have several blisters. Going to have to keep an eye on them.
Had a lovely dinner and chat with a couple from Sunderland that were away for the evening as their Christmas present. Obviously with lockdown they have not been able to do it until now.
All is well.