Thirty-three years ago, a twenty-year-old me first step foot in Mumbai – or as it was known then, Bombay. I was there to join a new cruise ship.
I didn't have the correct visa, I nearly didn't make it through immigration, but after five hours of waiting in the airport I was allowed in. I remember the airport seemed like a huge warehouse; empty, old equipment basically only able to do whatever job it was designed to do.
Here I am much older, and we are all living in a different time. I stepped off the plane after the eight-and-a-half-hour flight, with no worries about whether I was going to get let in. No worries about how my hotel would be, and yet I was nervous.
Ever since doing the Camino de Santigo, somehow I knew, had a feeling, that my next long pilgrimage will be in India. I don't know what that is. I don't know if it would happen, but the feeling is still there, it is so strong that I can not and will not ignore it. Coming back to India, at this time in my life, is exciting, it's invigorating, it's worrying. A good worry, the kind of worry that keeps you on your toes.
It was a night flight out; we would only have around 27 hours in Mumbai. I wanted to see the city as much as I could, so I decided a guided tour would be the best thing to do. The cabin crew community is a close one and we like to share our top tips for trips and so it was easy to find a highly recommended tour guide, Mr. Binny.
Mr. Binny met us at the hotel. There were only two of us, but he said he had arranged two more people to join us, but we were to drive about two hours to get to them.
Two hours. It was only thirteen miles away but the traffic in Mumbai is something else.
As we drove through the chaos you quickly realise that it isn't chaos at all. It is just countless people, taxis, tuk-tuk's, mopeds, bicycles, buses, cars, lorries, dogs, carts, going about their daily business. This city is huge. You can ask ten people that live here what is the population of Mumbai and you will get ten very different answers, I heard from between twenty-five million to as high as sixty million! Google it and you will find the answer twenty-one million. Interesting how all the locals I asked, they all overestimate. It seems like there are more. Everywhere you look you see people rushing, sleeping, talking, buying, stood still watching, there isn't a moment of stillness.
We headed first to the Gateway of India. Erected to celebrate the visit of King George V and Queen Mary. Originally it was made from cardboard and then they decided that they liked it so much they would do it properly and used stone. Here was our first taste of being a tourist. Random people asking to have a photograph taken with you. Beggers holding out their hands, looking up at you with beautiful, large brown eyes, looking into your soul and very quietly asking for something, just anything.
Next, we stopped at Dhobi Ghat, the open-air laundry, constructed in 1890. In 2011 it gained a place in the Guinness World Record book as most people hand-washing clothes at a single location – 426.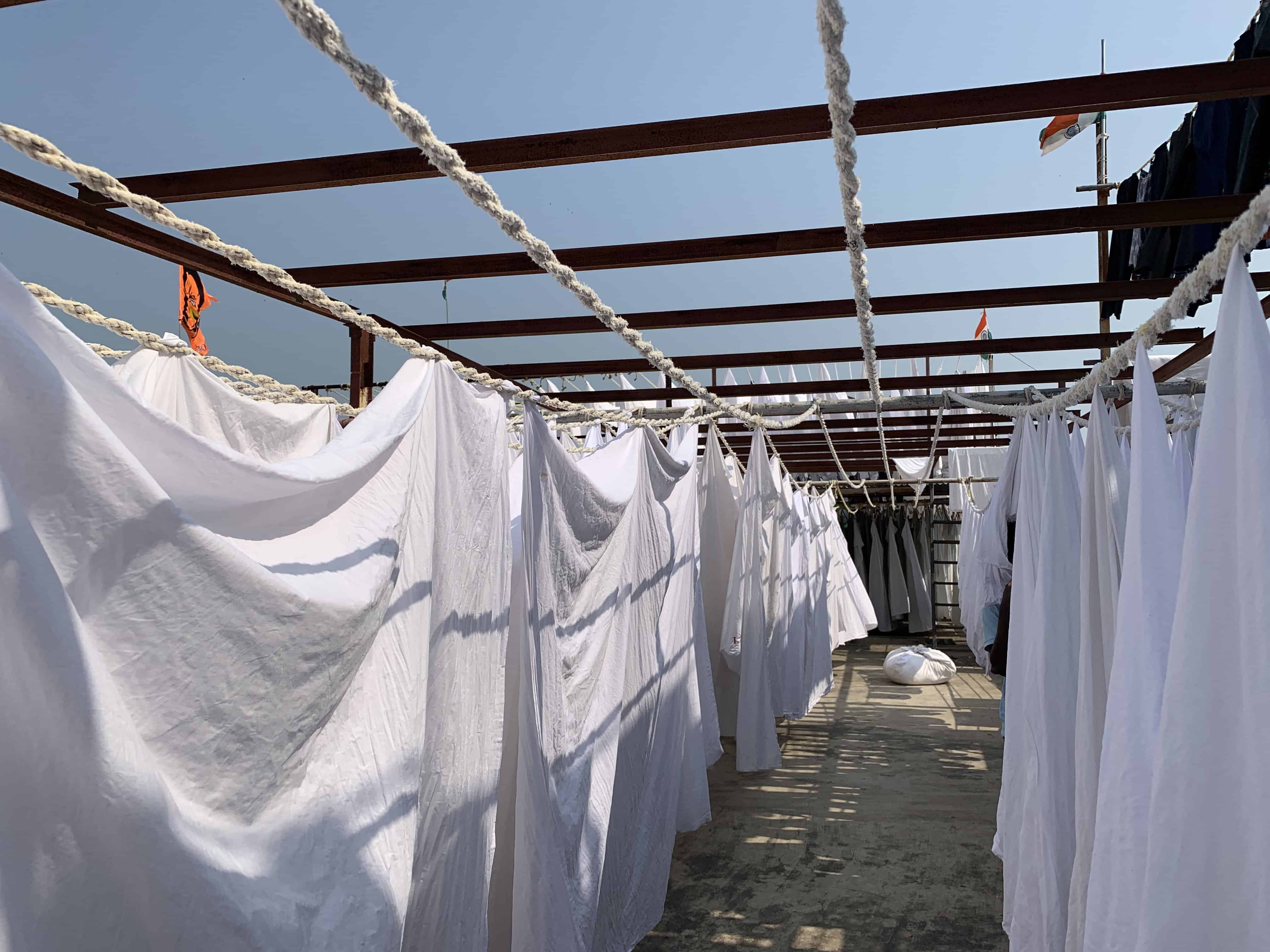 The industry and countless work that goes on here is amazing. Sheets, napkins, bedding, jeans, shirts, hang from every available space. No clothes pegs needed here. They take two equal lengths of rope, twist them together and use the natural force of the ropes squeezing together to hang. We are in a slum and the laundry here is spotless. As we stood on top of the buildings we could see high rises in which, Mr. Binny tells us, live millionaires. One building he points out, which is about 12 stories high, only homes four people.
Off to Victoria train station, or as it is now known, Chhatrapati Shivaji Terminus, CST for short. Modelled on St Pancras Station it is another place of a hive of activity. Mr. Binny points out that here was one of the places that the terrorists attached back in 2008, killing 58 and injuring 104. Crazy.
Our final stop was Mahatma Gandhi's house. This hit me like a brick wall. Having just spent a whole day driving and making our way through what I described as earlier chaos, this house was a place of peace, stillness, calm. As you walked up the steps you could physically feel the serenity the eluded from inside.
The first floor was basically a library, full of books that were read by Gandhi or about the great man. The second floor was sparse, just the walls dotted with articles about him and his life. The third floor was where he lived and worked. The room he slept in was out of bounds, but a glass wall allowed you to have a look at the basic way he lived.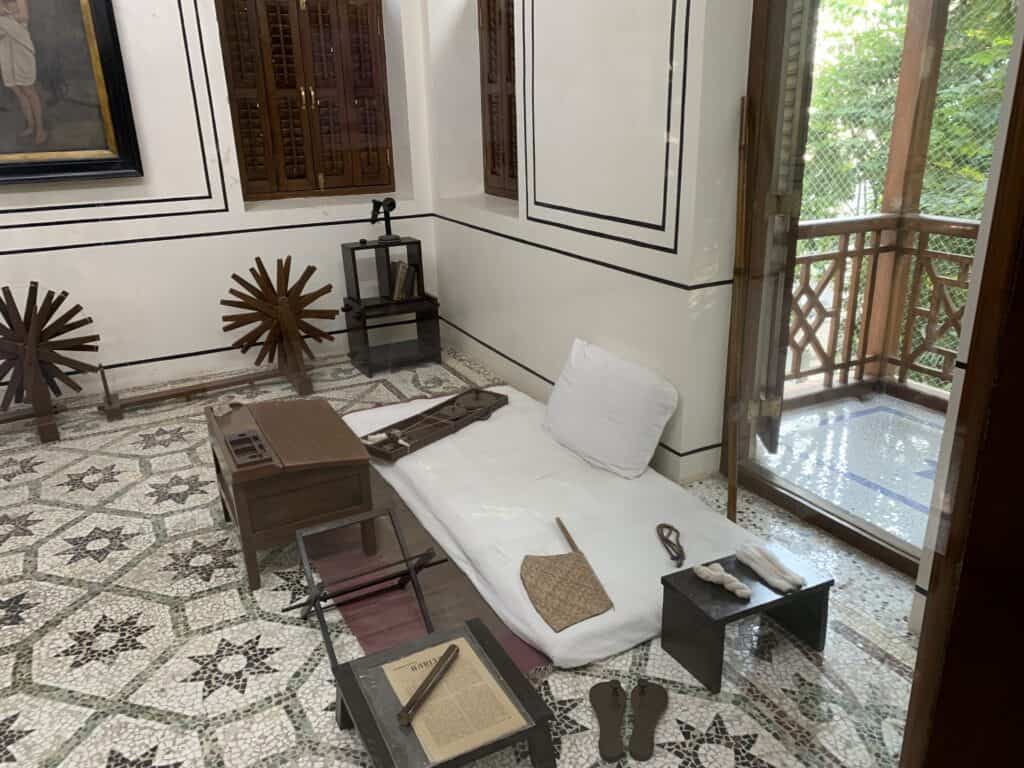 Two other rooms had dioramas depicting events in his life. What this man encountered and fought for in his life is simply astounding. The level of self-control that he must have had is beyond anything I have personally encountered. In 1930 he walked 240 miles as a non-violent protest against the British salt monopoly. In 1933 he went on a country wide pilgrimage against untouchability, the class system in India. The list goes on.
I was shocked into silence.
'the story pilgrim' is all about trying to figure out what this life is. Here in India the difference between how we all are blessed, or not, with differing lifestyles, choices and privileges is evident. Well, it isn't evident, it is thrust into your face. Poor living right next door to the megarich. The untouchables working with the elite, and they are happy to do so.
Every person I met had a soft soul, a smile on their face or a longing in their eyes to want to be a better person. They work hard here, and India is most certainly a place that I will return to, again and again.